Introduction: Who is Amy Sedaris?
Amy Sedaris is a multi-talented actress, comedian, writer, and producer who has been making audiences laugh for decades. She first rose to fame as Jerri Blank in the cult classic TV show "Strangers with Candy" and has since gone on to star in numerous movies and TV shows, including "Elf," "The Mandalorian," and "Bojack Horseman."
Amy Sedaris' Early Life and Career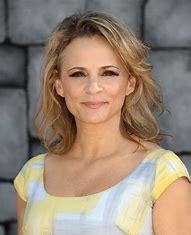 Amy Sedaris was born on March 29, 1961, in Endicott, New York. She grew up in a large family and has five siblings, including her brother, David Sedaris, who is also a well-known writer and humorist. Amy got her start in comedy in the 1990s, performing in New York City's alternative comedy scene alongside other up-and-coming comedians like Stephen Colbert and Paul Dinello.
In 1999, Amy and her "Strangers with Candy" co-stars Stephen Colbert and Paul Dinello created a TV show of the same name. The show, which aired on Comedy Central, was a parody of after-school specials and featured Amy as Jerri Blank, a 46-year-old former drug addict who returns to high school to restart her life. The show was a critical success and has since become a cult classic.
Amy Sedaris' Movies and TV Shows
Since "Strangers with Candy," Amy Sedaris has appeared in numerous movies and TV shows. She has had roles in popular movies like "Elf," "School of Rock," and "Jennifer's Body," and has lent her voice to animated shows like "Bojack Horseman" and "The Simpsons."
In 2017, Amy created and starred in her own TV show, "At Home with Amy Sedaris." The show, which airs on truTV, is a comedic take on home and hospitality shows and features Amy as the host, offering tips and tricks for everything from entertaining guests to crafting.
Amy Sedaris' Website and YouTube Channel
Amy Sedaris' website is a treasure trove of comedic content. The site features everything from recipes and crafting tutorials to videos of Amy interviewing her celebrity friends. She also has a YouTube channel where she posts videos of her various projects and appearances.
One of the highlights of Amy's website is her "Crafting with Amy" section. In these videos, Amy shows viewers how to make everything from a "Squirrel Feeder Hat" to a "Felted Soap." The videos are hilarious and offer a unique take on the world of crafting.
Amy Sedaris' IMDB Page
If you're looking for a comprehensive list of Amy Sedaris' movies and TV shows, her IMDB page is the place to go. The page lists all of her acting credits, as well as her writing and producing credits. It's a great resource for fans who want to keep up with Amy's latest projects.
Conclusion: Amy Sedaris' Legacy
Amy Sedaris has had a long and varied career in comedy, and her unique brand of humor has made her a beloved figure in the entertainment industry. From "Strangers with Candy" to "At Home with Amy Sedaris," Amy has proven that she can excel in any comedic medium. Her website and YouTube channel offer fans a glimpse into her creative process, and her IMDB page serves as a testament to her impressive body of work. As long as Amy Sedaris is making us laugh, we'll be eagerly watching and waiting for her next project.