Introduction
Anthony Mackie is a talented actor who has been making waves in Hollywood for over a decade. From his breakout role in "8 Mile" to his recent portrayal of Captain America's sidekick, Sam Wilson, Mackie has become a household name. In this blog post, we will dive deeper into his career and personal life, exploring his filmography, biography, and social media presence.
Early Life and Career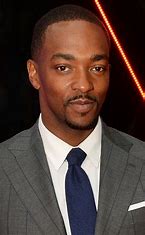 Biography
Anthony Mackie was born on September 23, 1978, in New Orleans, Louisiana. He attended the New Orleans Center for Creative Arts and later graduated from the Juilliard School's Drama Division in 2001. Mackie's first big break came in 2002 when he starred in Eminem's semi-autobiographical film "8 Mile." This role led to several other supporting roles in films such as "Million Dollar Baby" and "The Hurt Locker."
IMDb and Filmography
Mackie's IMDb page lists over 80 acting credits, which include both film and television roles. Some of his most notable film roles include Sam Wilson/Falcon in the Marvel Cinematic Universe, Sergeant JT Sanborn in "The Hurt Locker," and Nate Ruffin in "We Are Marshall." He has also appeared in several television shows, including "Altered Carbon" and "Black Mirror."
Captain America and Beyond
Captain America
Mackie joined the Marvel Cinematic Universe in 2014 when he was cast as Sam Wilson/Falcon in "Captain America: The Winter Soldier." He reprised the role in several other films, including "Avengers: Age of Ultron," "Captain America: Civil War," and "Avengers: Endgame." In 2021, he starred in "The Falcon and the Winter Soldier," a Disney+ series that follows his character's journey after the events of "Endgame."
Other Films
Aside from his Marvel roles, Mackie has also appeared in several other films. In 2019, he starred in the Netflix thriller "Point Blank" and the science fiction film "IO." He also starred in the 2020 film "Synchronic," which follows two paramedics who encounter a series of bizarre deaths.
Personal Life
House and Family
Mackie currently resides in Brooklyn, New York, with his wife, Sheletta Chapital, and their three children. The couple married in 2014 and has been together for over a decade. In 2019, Mackie purchased a $3.5 million brownstone in the Bedford-Stuyvesant neighborhood of Brooklyn.
Instagram
Mackie is active on Instagram, where he often shares behind-the-scenes photos from his film and television projects. He also uses the platform to promote his personal interests, such as his love of music and fashion. As of August 2021, he has over 5 million followers on the platform.
Conclusion
Anthony Mackie is a talented actor who has made a name for himself in Hollywood. From his early roles in "8 Mile" to his recent portrayal of Sam Wilson/Falcon, Mackie has proven himself to be a versatile and dynamic performer. His personal life, including his marriage and Instagram presence, adds another layer to his already impressive career. We look forward to seeing what Mackie has in store for us in the future.