Bethany Joy Lenz: The Early Years
Bethany Joy Lenz was born on April 2, 1981, in Hollywood, Florida. Her parents were Robert George Lenz and Catharine Malcolm Holt Shepard. Her father was a history teacher and therapist, while her mother was a personnel manager and entrepreneur. Bethany grew up in a musical family and began singing and performing at a young age. She attended Pope Elementary School, where she participated in the school choir and drama club.
At the age of seven, Bethany's family moved to Arlington, Texas, where she continued to pursue her passion for music and acting. She attended The Creative Arts Theater and School, where she took acting classes and performed in musical theater productions. Bethany's talent was evident from a young age, and she quickly gained recognition for her singing and acting abilities.
Bethany Joy Lenz: Career Beginnings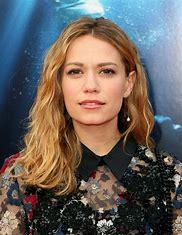 After graduating from high school, Bethany moved to Los Angeles to pursue a career in acting. She landed her first role in the soap opera "Guiding Light" in 1998, where she played the character of Michelle Bauer Santos. Bethany's performance in the show was well-received, and she was nominated for a Daytime Emmy Award for Outstanding Younger Actress in a Drama Series in 2000.
Following her success in "Guiding Light," Bethany went on to appear in several other television shows and movies, including "One Tree Hill," "Dexter," and "Colony." She also continued to pursue her passion for music and released several albums, including "Come On Home" and "Then Slowly Grows." Bethany has also performed in several musical theater productions, including "Cinderella" and "Joseph and the Amazing Technicolor Dreamcoat."
Bethany Joy Lenz: Motherhood and Personal Life
In addition to her successful career in acting and music, Bethany is also a mother to her daughter, Maria Rose Galeotti. Maria was born in 2011, and Bethany has been open about the challenges and joys of motherhood. She has also been vocal about her struggles with anxiety and depression and has used her platform to raise awareness about mental health issues.
Bethany has been married twice, first to Michael Galeotti, with whom she had her daughter, and then to Josh Kelly, whom she married in 2018. Bethany and Josh have been open about their love for each other and their commitment to their family.
Bethany Joy Lenz: Hallmark Movies and Beyond
Bethany has become a fan favorite in Hallmark movies, appearing in several popular films, including "Royal Matchmaker" and "Bottled with Love." She has also continued to pursue her passion for music, releasing new music and performing in concerts and events.
Bethany's talent and dedication to her craft have made her a beloved actress and musician, and she continues to inspire others with her work and advocacy. Whether she is on the screen or on the stage, Bethany Joy Lenz is a force to be reckoned with, and her fans eagerly await her next project.
Bethany Joy Lenz: Measures and Achievements
Bethany Joy Lenz is 5 feet 4 inches tall and weighs approximately 55 kg. She has been nominated for several awards throughout her career, including a Daytime Emmy Award and a Prism Award. She has also been recognized for her advocacy work and was honored with the Voice Award in 2016 for her efforts to raise awareness about mental health issues.
Bethany Joy Lenz: Latest News and Future Projects
Bethany Joy Lenz continues to be a busy actress and musician, with several projects in the works. She recently starred in the Hallmark movie "Just My Type" and is set to appear in the upcoming film "The Christmas Contract." She is also working on new music and has hinted at a possible tour in the future.
As Bethany continues to pursue her passions and inspire others, her fans eagerly await her next project and look forward to seeing what she will accomplish next.