The Life and Career of Gwen Verdon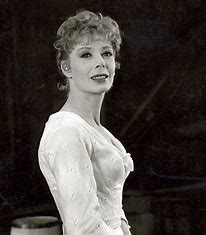 Gwen Verdon was born in Culver City, California in 1925. She began dancing at a young age and quickly showed a natural talent for it. She went on to become one of the most famous dancers of her time, known for her incredible legs and unique style.
Verdon started her professional career in the 1940s, dancing in Broadway shows such as "Alive and Kicking" and "Can-Can". She quickly gained a reputation as a talented and versatile dancer, and was soon working with some of the biggest names in the industry.
The Partnership with Bob Fosse
In 1955, Verdon met Bob Fosse, a choreographer who would become her creative partner and eventually her husband. The two worked together on a number of Broadway shows, including "Damn Yankees", "Sweet Charity", and "Chicago".
Their partnership was a successful one, and they were known for their innovative and groundbreaking choreography. Verdon's unique style and Fosse's creative vision made them a formidable team, and they went on to win multiple Tony Awards for their work together.
The Legacy of Gwen Verdon
Gwen Verdon passed away in 2000 at the age of 75, but her legacy as a dancer and performer lives on. Her incredible talent and unique style continue to inspire dancers and choreographers today.
Verdon's work with Bob Fosse is considered some of the most influential choreography in Broadway history, and her performances in shows like "Damn Yankees" and "Sweet Charity" are still remembered as some of the best in the business.
Gwen Verdon's Unforgettable Legs
One of the things that Verdon was most known for was her incredible legs. She was often referred to as "the girl with the million dollar legs", and her long, lean limbs were a defining feature of her performances.
Verdon's legs were so famous that they were even insured for a million dollars at one point. They were a key part of her unique style, and she used them to great effect in her dancing and choreography.
Gwen Verdon's Impact on Dance
Gwen Verdon was a true pioneer in the world of dance. Her unique style and innovative choreography helped to push the boundaries of what was possible on stage, and she inspired countless dancers and choreographers to follow in her footsteps.
Her partnership with Bob Fosse was especially influential, and their work together helped to shape the future of Broadway choreography. Verdon's legacy as a dancer and performer will continue to be felt for years to come.
FAQ
Who is Gwen Verdon?
Gwen Verdon was an American dancer, actress, and singer who was considered one of the greatest Broadway dancers of all time. She was born on January 13, 1925, in Culver City, California, and passed away on October 18, 2000, in Woodstock, Vermont.
What made Gwen Verdon a legendary dancer?
Gwen Verdon's unique style of dancing and her unforgettable legs made her a legendary dancer. She was known for her incredible technique, precision, and ability to convey emotion through her movements. She also worked closely with choreographer Bob Fosse, and together they created some of the most iconic dance numbers in Broadway history.
What were some of Gwen Verdon's most famous roles?
Gwen Verdon had many famous roles throughout her career, but some of her most notable performances were in the musicals "Damn Yankees," "Sweet Charity," and "Chicago." She won four Tony Awards for her performances in these shows.
What was Gwen Verdon's relationship with Bob Fosse?
Gwen Verdon and Bob Fosse had a close working relationship and were also married from 1960 until Fosse's death in 1987. They collaborated on many Broadway shows, and Verdon often served as Fosse's muse and inspiration for his choreography.
What was Gwen Verdon's legacy?
Gwen Verdon's legacy as a dancer and performer is still felt today. She inspired countless dancers and performers with her unique style and incredible talent. Her work with Bob Fosse also helped to shape the landscape of modern dance and musical theater.