Lakeith Stanfield's Early Life and Career Beginnings
Lakeith Stanfield was born on August 12, 1991, in San Bernardino, California. He grew up in Riverside, California, with his two sisters and his mother and father, who were both musicians. Stanfield attended John W. North High School but dropped out in his junior year.
After dropping out of high school, Stanfield moved to Los Angeles to pursue acting. He worked odd jobs to make ends meet while attending auditions. His big break came when he was cast in the independent film Short Term 12 in 2013.
Stanfield's Breakthrough Role in Get Out and Other Movie Roles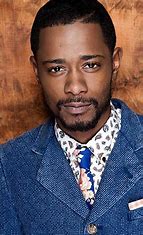 Stanfield's breakthrough role came in 2017 when he played a supporting role in the horror film Get Out. He played the character of Andre Hayworth, a black man who is kidnapped and brainwashed by a group of white people. The film was a critical and commercial success, and Stanfield's performance was praised by critics.
After Get Out, Stanfield went on to star in several other movies, including The Girl in the Spider's Web, Sorry to Bother You, and Knives Out. He has also appeared in several television shows, including Atlanta, The Twilight Zone, and BoJack Horseman.
Nominations and Awards
Stanfield's performances have earned him several award nominations. In 2018, he was nominated for a Gotham Independent Film Award for Best Actor for his role in Sorry to Bother You. He was also nominated for a Screen Actors Guild Award for Outstanding Performance by a Cast in a Motion Picture for his role in Get Out.
In 2020, Stanfield was nominated for an Emmy Award for Outstanding Supporting Actor in a Limited Series or Movie for his role in the television series The Outsider.
Personal Life and Social Media Presence
Stanfield is known for being private about his personal life. He has not disclosed much information about his romantic relationships or family life. However, he has been open about his struggles with mental health and has encouraged others to seek help when needed.
Stanfield has a strong social media presence, with over 1 million followers on Instagram. He often uses his platform to share his artwork, music, and thoughts on social and political issues.
Conclusion
Lakeith Stanfield's career has been marked by his versatile acting skills and his ability to take on challenging and thought-provoking roles. From his breakthrough role in Get Out to his recent work in The Outsider, Stanfield has proven himself to be a talented actor with a bright future ahead of him. His personal life may be private, but his social media presence shows that he is committed to using his platform for good.