Introduction
Rudy Reyes is a man of many talents. He is a former Marine, an actor, a fitness enthusiast, and a video game star. His life and career have been nothing short of remarkable, and he has inspired countless people with his dedication and hard work. In this blog post, we will explore the life and career of Rudy Reyes, from his time in the Marines to his current pursuits.
The Early Years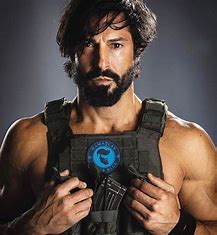 Joining the Marines
Rudy Reyes was born in 1971 in Kansas City, Missouri. His parents were both immigrants from Mexico, and they instilled in him a strong work ethic and a sense of discipline from an early age. After graduating from high school, Reyes decided to join the Marines, and he quickly rose through the ranks thanks to his dedication and leadership skills. He served in a number of different roles, including as a scout sniper and a reconnaissance Marine, and he was deployed to a number of different conflict zones around the world.
Generation Kill
After leaving the Marines, Reyes decided to pursue a career in acting. He landed his first major role in the HBO miniseries Generation Kill, which was based on the experiences of a Marine battalion during the Iraq War. Reyes played himself in the series, and his performance was widely praised for its authenticity and emotional depth. The show was a critical and commercial success, and it helped to launch Reyes' acting career.
The Acting Career
Other Roles
After the success of Generation Kill, Reyes went on to appear in a number of other films and TV shows. He played a Marine in the movie The Scorpion King 3: Battle for Redemption, and he had a recurring role on the TV show NCIS: Los Angeles. He also appeared in the video game Call of Duty: Modern Warfare 3, where he played the character of Sergeant Derek "Frost" Westbrook. His performance in the game was widely praised, and it helped to cement his status as a video game star.
Personal Life
Reyes is married and has two children. He is also a fitness enthusiast, and he has written a book about his workout routine called Hero Living: Seven Strides to Awaken Your Infinite Power. He is active on social media, and he often shares his thoughts and experiences with his followers. He is a strong advocate for mental health and wellness, and he has spoken publicly about his own struggles with PTSD and depression.
Conclusion
Rudy Reyes is a true American hero, and his life and career are an inspiration to us all. From his time in the Marines to his success as an actor and video game star, he has shown us what it means to be dedicated, disciplined, and hardworking. We can all learn from his example and strive to be our best selves, both in our personal and professional lives.