Tait Fletcher: From MMA Fighter to Hollywood Actor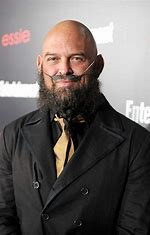 Tait Fletcher is a name that's been making waves in Hollywood over the past few years. Known for his rugged looks and tough-guy persona, Fletcher has made a name for himself as an actor, stuntman, and MMA fighter. He's appeared in some of the biggest movies and TV shows of the past decade, including The Mandalorian, John Wick, and Breaking Bad. But how did this former fighter make the transition to Hollywood? Let's take a closer look at his journey.
Early Life and MMA Career
Tait Fletcher was born in Alaska in 1974. He grew up in a family of hunters and fishermen and developed a love for the outdoors at a young age. After high school, Fletcher moved to New Mexico and began training in mixed martial arts. He quickly became one of the top fighters in the state and eventually made his way to the UFC.
Fletcher's MMA career was a successful one, but he eventually decided to retire from fighting and pursue other interests. He began working as a stuntman in movies and TV shows, using his fighting skills to perform realistic fight scenes. This led to his first acting roles, and he's been steadily building his career ever since.
The Mandalorian and Other Acting Roles
Fletcher's big break came in 2019 when he was cast in the hit Disney+ series The Mandalorian. He played the role of Paz Vizsla, a Mandalorian warrior who becomes an ally of the show's main character. The role was a perfect fit for Fletcher, who brought his tough-guy persona and fighting skills to the character.
Since then, Fletcher has appeared in a number of other high-profile movies and TV shows. He had a small but memorable role in John Wick: Chapter 3 – Parabellum, playing a member of the High Table. He also appeared in the hit comedy Jumanji: The Next Level and had a recurring role in the final season of Breaking Bad.
Personal Life and Social Media
Outside of his acting and fighting careers, Fletcher is known for his love of the outdoors and his commitment to fitness. He's an avid hunter and fisherman and often posts pictures of his adventures on social media. He's also a fitness coach and runs his own gym in Albuquerque, New Mexico.
Fletcher is active on social media and has a large following on platforms like Instagram and Twitter. He often shares behind-the-scenes glimpses of his acting and stunt work, as well as motivational messages and fitness tips.
Final Thoughts
Tait Fletcher is a multi-talented performer who has made a name for himself in both the MMA world and Hollywood. With his rugged looks, fighting skills, and natural charisma, he's become a sought-after actor and stuntman. Whether he's playing a tough Mandalorian warrior or a member of the High Table, Fletcher brings authenticity and intensity to his roles. We can't wait to see what he does next.