Introduction
Veronica Lake was one of the most iconic actresses of the 1940s. Her signature hairstyle, known as the "peek-a-boo" style, became a cultural phenomenon and her performances in films such as "This Gun for Hire" and "The Blue Dahlia" cemented her status as a Hollywood legend. However, her life was not without its struggles and controversies. In this biography, we will explore the life and impact of Veronica Lake on Hollywood.
Early Life and Career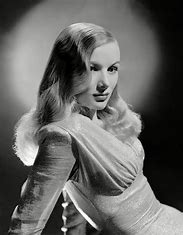 Childhood and Family
Veronica Lake was born Constance Frances Marie Ockelman on November 14, 1922, in Brooklyn, New York. Her parents, Harry and Constance Ockelman, were both creative individuals; Harry was a photographer and Constance was a dancer. However, their marriage was tumultuous and they divorced when Veronica was just 12 years old. She and her mother moved to Miami, Florida, where she attended high school and began acting in school plays.
Early Acting Career
After graduating from high school, Veronica moved to New York City to pursue an acting career. She began taking classes at the Bliss-Hayden School of Acting and soon landed a role in the Broadway play "Dancing in the Streets". She then signed a contract with RKO Pictures and made her film debut in the 1939 film "Sorority House". However, it wasn't until her role in the 1941 film "I Wanted Wings" that she gained widespread recognition.
Peak of Fame
Signature Hairstyle
Veronica Lake's signature hairstyle, known as the "peek-a-boo" style, became a cultural phenomenon in the 1940s. The style featured a deep side part with hair falling over one eye, creating a sense of mystery and allure. It became so popular that the U.S. government asked her to change her hairstyle during World War II, as it was causing women working in factories to get their hair caught in machinery.
Notable Films
Veronica Lake's most notable films include "This Gun for Hire" (1942), "The Glass Key" (1942), and "The Blue Dahlia" (1946). She often played the role of the femme fatale, a seductive and mysterious woman who lures men into dangerous situations. Her performances were praised for their subtle and understated quality, which added to her enigmatic persona.
Personal Life and Controversies
Marriages and Children
Veronica Lake was married four times and had four children. Her first marriage was to John S. Detlie, a production designer, with whom she had a daughter named Elaine. She then married director Andre De Toth and had two children, Andre Jr. and Diana. Her third marriage was to Joseph A. McCarthy, a screenwriter, and her fourth was to Robert Carleton-Munro, a British airline pilot.
Alcoholism and Legal Troubles
Veronica Lake struggled with alcoholism throughout her life, which led to legal troubles and a decline in her career. She was arrested several times for public drunkenness and disorderly conduct. She also had a tumultuous relationship with her mother, who sued her for financial support. In the 1960s, she made a brief comeback with a role in the horror film "Flesh Feast", but her career never fully recovered.
Conclusion
Veronica Lake was a complex and enigmatic figure who left a lasting impact on Hollywood. Her signature hairstyle and performances in film have become iconic, and her struggles with personal demons have made her a tragic figure. Despite her controversies, she remains a beloved and influential actress, and her legacy continues to inspire new generations of filmmakers and performers.